Play Perya is the new Go Perya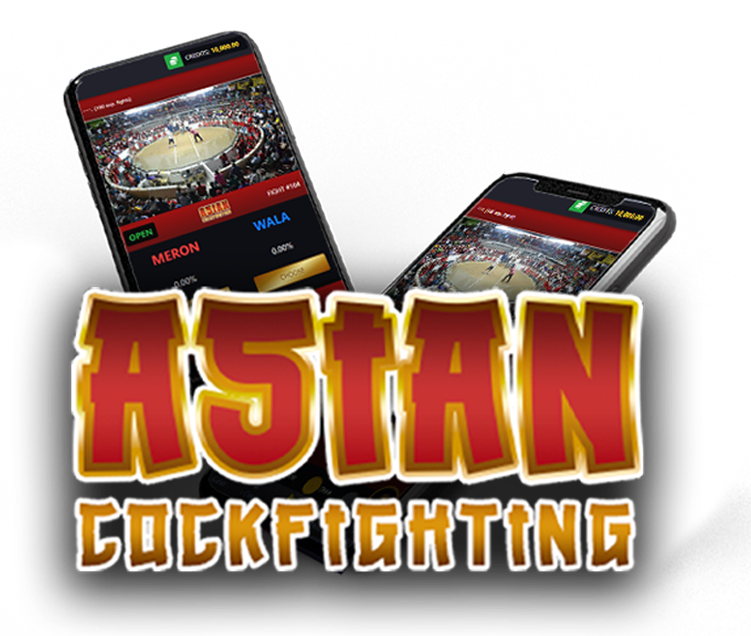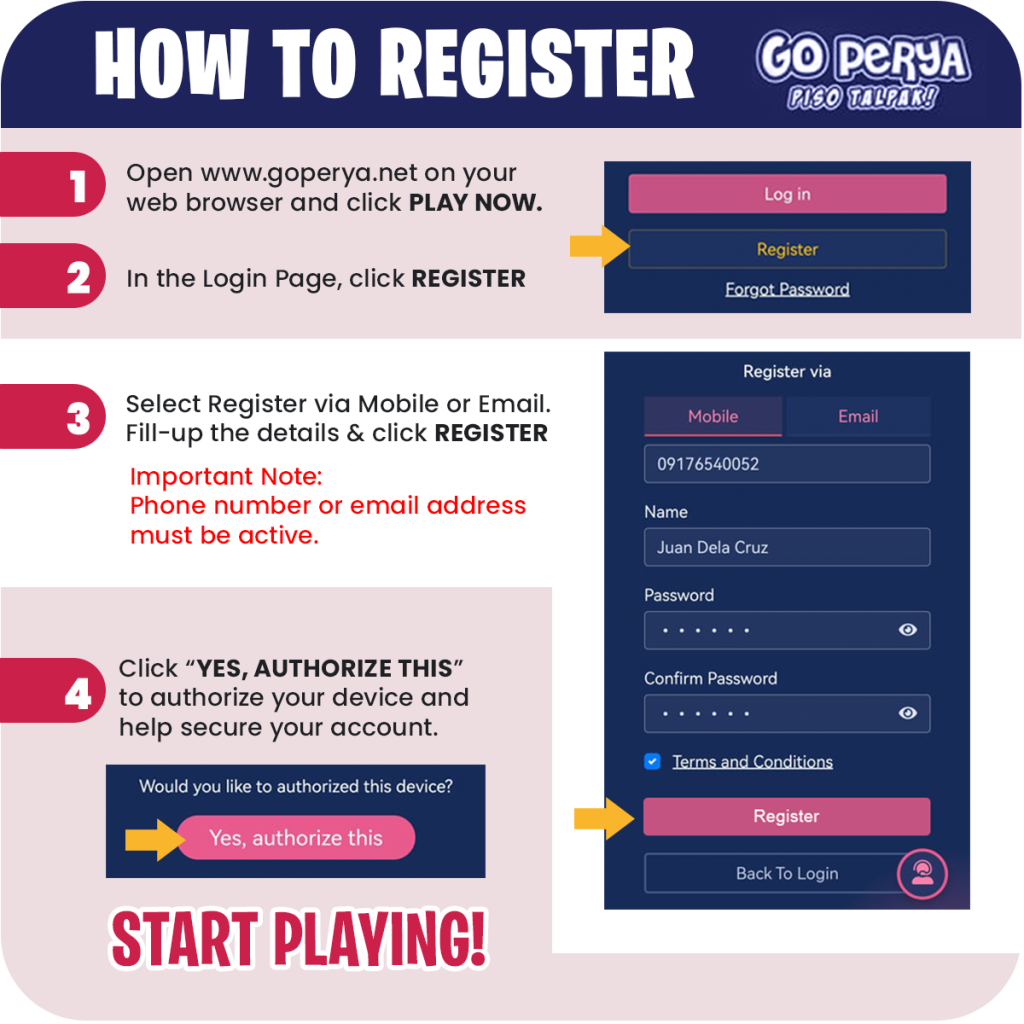 How to Cash in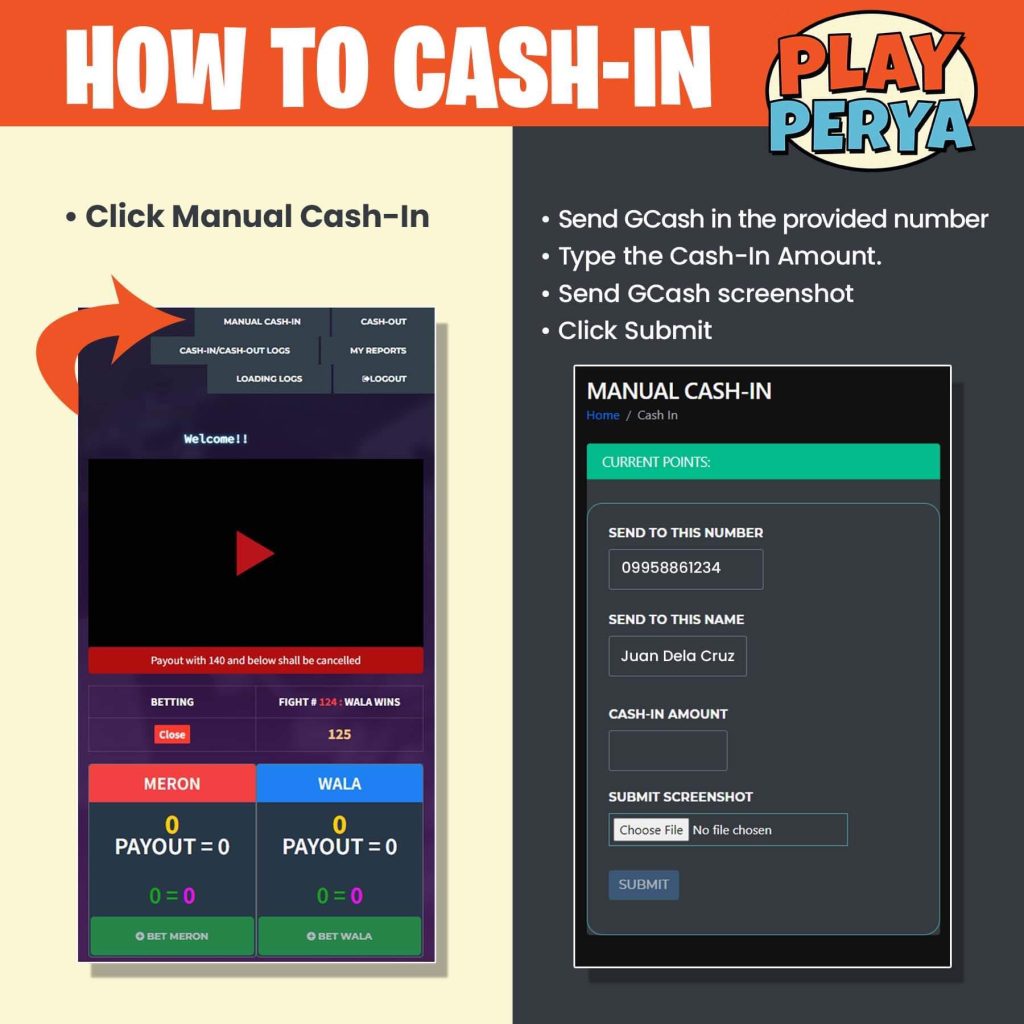 PLEASE WATCH THE VIDEO BELOW ON HOW TO CASH IN AND CASHOUT
How to Cash Out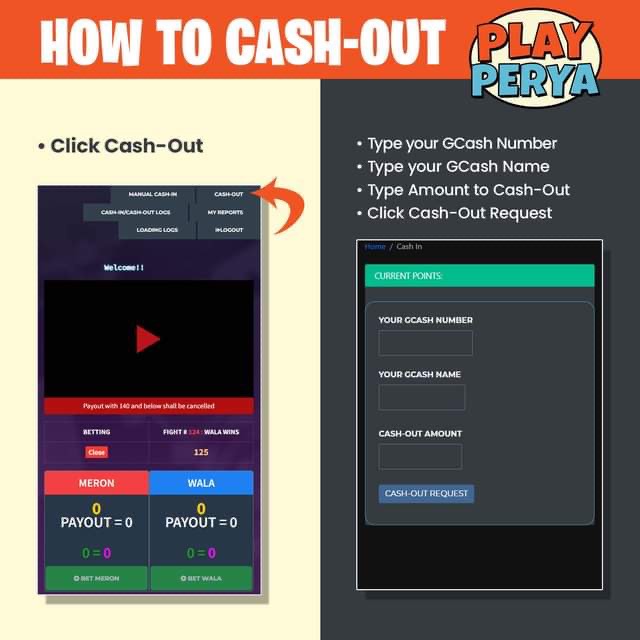 Online Sabong is a big part of the culture in the Philippines and it is said to be among the country's most well-known trends. Playing in the Play Perya will surprise its players because it offers multiple features! Not only for Online Sabong, but also for other types of entertainment and recreation such as color games and popular game modes around the country. Explore some new favorite games as well as play for real money! This Casino is a systematic gaming platform that features high-quality visuals and features.
The lowest credit to place a bet is ₱1 for different games! Play Perya wants nothing else but the best for its players. Only with this small sum could the players enjoy games and earn large amounts of cash. Winning thousands of cash with a peso sounds like a fantastic dream! In terms of cash, the minimum cash out from your Play Perya account is ₱10. Other Online casinos ask for transaction fees for the withdrawal and cash-in of credits, but with us, there is no fee for transactions. Join us now and start saving money.
Kindly confirm or recheck the receiver you selected for your assurance and security while cashing in credits to your account or cashing out your earned money. The website will not accept errors like these. Moreover, Play Perya offers and accepts one of the most well-known methods of payment, Gcash, which is authorized by over 12 banks. When you cash out, your earnings will be transferred to your bank account or Gcash account. To add funds to your personal account, click the icon with three lines in the upper left corner of the page. We deliver your receipt through your mobile number for your assurance and protection, making people feel more secure in our casino! Players could collect their winnings in less than an hour.
Do you wish to explore and discover your gaming talents and capabilities when it comes to Sabong Online? Take the time to read the following information about it!
Sabong in Go Perya / Play Perya
Online Sabong in the Casino is available and accessible to all players 24 hours a day, seven days a week. If you have a lot of free time on the weekends and are interested in playing games through a screen, try to invest your time with Go Perya Online Sabong and you could win actual money in just one sitting!
There is no demand for an agent to engage and earn income in Online Sabong. Easily be able to use our online application without the assistance of an agent. It is entirely free and open to all players around the world!
Whether you're an OFW (Overseas Filipino Worker) or not, you may still participate in the Online Sabong, which again is streamed 24/7, even if the player is located in a very dissimilar time zone. It is very simple and quick to place a bet in Play Perya Sabong even in a different region.
For the safety of everyone, we may need to acquire information from your account for confirmation checks, including such checks from your cashed-out money, cashed checks, identification (if only necessary), and sources. It is guaranteed that no information about the players will be leaked outside Go Perya!
Many reasons are to be considered on why you should choose Go Perya! This includes that we offer a friendly community and excellent customer service to assist you with any issues. The customer service is easy to reach! It is compatible with both Android as well as iOS. It is also quite easy to see on Google Chrome. Not only this, it is also available with the use of APK for other android users.
How to register an account?
Are you interested in playing games in Go Perya? Sign up today! As previously mentioned, creating an account requires only two easy steps. Visit Go perya.com on a Google browser and tap on our website. To continue playing games, hit "Play" and provide your Active Mobile Device number! Simply said, you may now earn and enjoy it as if you were in an actual casino. If there are any concerns, it is free to request help from our services.
If you need help with gaming, please do not hesitate to contact us via our Facebook page, Gmail account, Instagram account, or by phone. Leave a comment with us to help improve our site. Starting to invest time in Go Perya will not make you regret it because of its generosity! On top of that, it provides the newbie players bigger bonuses, prizes and jackpots for a warm welcome!